The Lufthansa group has agreed to sponsor our conference and will be offering discounts for flights to FCO airport
Special Lufthansa Group airlines fares
The Lufthansa Group airlines bring people together – every day, all around the world. The global route network of Austrian Airlines, Lufthansa, SWISS, Brussels Airlines and Eurowings offers optimal connection and combination options, so you will benefit from quick and direct flights to the event.
You will reach the booking platform via this link https://www.lufthansa.com/de/en/meetings-and-events-delegates and with the event code CYAUQPH. The reduced fares are automatically displayed.
NB: Please enable pop-ups permanently in your browser while booking, otherwise the window in the booking platform will not open.
*Please note that the discount code may not be applicable for all airports that the Lufthansa Group operates in.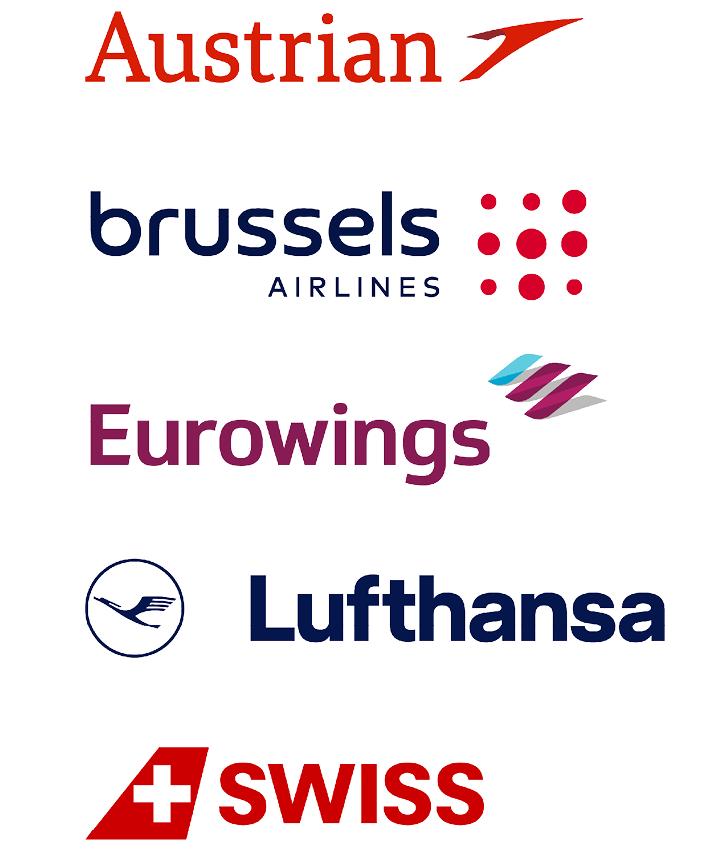 It is easy to reach Italy and travel around the country once you arrive. Italy offers excellent air links with the rest of the world, but it is also possible to come here by train, by sea or by using the extensive motorway network. It is also easy to travel around within the country. All the main cities are connected with frequent daily flights. The rail network is spread over more than 15,000 kilometers, offering uniform cover throughout Italy, while travelling by coach or car is even more convenient still, with a dense network of motorways, dual carriageways and trunk roads allowing visitors to reach any location in the country simply and rapidly. To reach all of Italy's islands from the mainland, regular ferry services depart from the main towns and cities along the coast.
Airports near Rome
Leonardo da Vinci Airport (Fiumicino)

 

– approximately 36 km from the center of Rome (45/60 minutes).Connections to the city are available by rail, bus and taxi.
The Ciampino airport, 16 km southeast of Rome, is the destination for most low cost airlines. It is connected to the Termini Railways Station by a local train line and by the busses.
Reaching Italy by airplane
Italy's main airports for intercontinental and international arrivals are 'Leonardo da Vinci' (Rome Fiumicino) and Malpensa (Milan); however, international flights arrive in almost all the country's numerous airports. A wide range of flights is available from both traditional and low-cost airlines, covering a vast array of destinations. Italy has air links with most European countries and with the rest of the world. The websites of the main regular and low-cost airlines provide further information on routes, flight times, prices and availability. More or less all the airports are serviced by a dense network of taxis, buses and trains, which allow to reach one's final destination with a certain ease. 
Travelling by air in Italy is easy, thanks to the wide range of flights and airlines that operate in the country. There are plenty of connections from one city to another, with frequent services from Rome-Fiumicino and Milan-Malpensa to all the other airports in Italy, and it is also simple and convenient to reach Sicily, Sardinia and the smaller islands from the mainland, with frequent services available. There are almost forty other small and medium-sized airports in Italy, present in every region except Molise and Basilicata.
Reaching Italy by ship
For sea lovers, it is possible to reach Italy by ship. There are many national and international passenger ship and ferry companies that link the main ports in Europe to Italy. Ticket prices are very high in the summer and vary depending on the weight of the passenger's vehicle loaded on the ship. The Navi Veloci fleet sails between Barcelona and Genoa. Sea links between Greece and Italy are guaranteed on the busiest routes: from Igoumenitsa, Corfu and Patras, Blue Star Ferries sail directly to Venice and Brindisi, while Superfast Ferries operate services to Ancona and Bari. Fragline Ferries sail from Corfu to Brindisi; Grimaldi Ferries, one of the best-known Italian companies, link Tunis and Barcelona with Civitavecchia, Salerno, Livorno and Palermo. Tirrenia Navigazione ferries operate numerous services throughout the year between Tunis and the major Italian islands, Sicily and Sardinia. 
Reaching Italy by train
Travelling by train will never lose its particular charm, at least not for visitors in Italy. Both daytime and overnight services between Italy and the rest of Europe are known for their high quality, rapidity and excellent level of comfort. It is advisable (and in some cases compulsory) to book a seat. Some international rail companies also offer the opportunity for visitors to transport their own motor vehicle. Every day, a large number of international trains come over the border to Italy, connecting the country to the main towns and cities in Austria, Germany, France and Eastern Europe. 
For further information: 
www.trenitalia.it
Reaching Italy by bus
There are many comfortable coach services that take passengers over the alpine borders into Italy. The Eurolines consortium, which gathers together the main European coach travelling companies, has information offices in the main towns and cities, and offers services departing from over thirty locations throughout Italy. These coaches offer all the services and facilities necessary for a comfortable journey, and of course offer services to and from the major cities such as Milan, Rome and Florence.
Useful links:
EuroLines – www.eurolines.com
Busabout Adventure Coach Travel Europe – www.busabout.com
Travelling in Italy
The cities, towns, villages and hamlets of Italy are connected by efficient bus and coach services that allow visitors to travel around and explore all the sights and attractions the country has to offer. A range of scheduled passenger transport routes are available to travel the length and breadth of the country. The numerous companies that operate in Italy guarantee connections both between small country villages and small and medium-sized towns and rapid, efficient transport services between major cities. To travel to smaller cities or country towns and villages, coaches are generally a cheaper and more convenient option than trains. Departure and arrival times can be consulted at the local information offices, as well as local tourist information and tourist board offices. In larger cities, tickets can be purchased directly from the travel company offices or from travel agencies, while in smaller towns and villages it is easier to purchase them from the local bars or directly from the driver. It is not compulsory to book seats, although it is advisable to do so for longer or overnight journeys. For any information you may require on destinations, timetables and fares, you can consult both travel portals and the official websites of the various companies.
For further information:
Arpa – www.arpaonline.it (Abruzzo)
Sais – www.saistrasporti.it  (Sicily)
Busweb – www.busweb.it
Saj – www.saj.it  (Calabria)
Marino – www.marinobus.it (Apulia e Basilicata)
Sena – www.sena.it (Tuscany)
Autostradale S.p.A. – www.autostradale.it (Lombardy)
Reaching Italy by car
The extensive European motorway network and the presence of a number of mountain passes makes it easy to come to Italy by car or by motorbike. Italy can be reached from Austria, France, Switzerland and Slovenia. The main passes, open all year, that provide access to Italy are: the Mont Blanc Tunnel, which from Chamonix links France to the A5 motorway for Turin and Milan; the Great St. Bernard Tunnel, which links Switzerland with the A5; the Brenner Pass through Austria, which links up with the A22 motorway for Bologna. The alpine tunnels may often be closed during winter, and sometimes even in autumn and spring, as a result of heavy snow.
For further information:
www.autostrade.it
Travelling inside Italy
An excellent network of motorways, identified by green-coloured signs, shortens the distances between the twenty regions that make up Italy: 3408 kilometres of roads that guarantee perfectly safe, efficient travel and transport services throughout the country.
Two main motorways link the north and south of Italy: the Autostrada del Sole (the A1, which connects Milan, Bologna, Florence, Rome and Naples) and the Adriatica (the A14, which connects Bologna, Ancona, Pescara, Bari and Taranto).
Tolls must be paid on the motorways. Cash or credit cards may be used for payment.
"Viacard" and "Telepass" cards are a quicker method of payment. Viacard is a magnetic card that can be used at the automatic or manual accesses or eventually given to the toll-man. Telepass is quickest solution for automatic payment, based on distance electronic recognition of the vehicle, charging the fee to the user: it allows to perform transactions without stopping at the tollbooth, quickening transit and saving fuel.
For any information you may require on weather or traffic conditions, the cost of motorway tolls etc., you can stop at the Punti Blu info points, located at all motorway junctions, contact the official website of the Società Autostrade company, or telephone the Road System Call Centre 840-042121, operating all day long.
In addition to motorways, drivers will find an extensive network of trunk roads, indicated by blue-colored signs, which link towns and villages within the various regions, or municipalities in one region with those in another. Secondary roads, on which tolls do not have to be paid, offer splendid views, which cannot be admired from the motorways: these routes are not as quick, but the journey is undoubtedly more pleasant and interesting.
Further information:
Taxi Services
Authorised taxis in Italy are white, and must have 'Taxi' written on the roof. They must be fitted with a taximeter indicating the cost of the fare in real time and, where applicable, the supplements payable for luggage, public holiday services, services during the night or outside of the city (as in the case of services to and from airports, for instance). To call a taxi, you can either go to a taxi rank, indicated by yellow lines or an orange sign, or telephone the various radio taxi services, which vary from one city to another.
Car Hire
It is very simple to rent a car or a motorbike, but it is best to check in advance which are the requirements of the different agencies. Age generally must be 23 or over (sometimes 25), but some agencies allow younger people to rent a vehicle. A credit card is generally necessary, plus a driving licence. Non-EU nationals should also possess and International Driving Permit (IDP).
General Info
In Italy the standard voltage is 230 V and the frequency is 50 Hz. Electrical sockets comply with European regulations. In most hotels you will find adaptors for different types of plugs.
Since 2001, the currency used in Italy is the euro. Bank opening hours are Monday to Friday 08:30 -13:30 and 15:00 -16:00. Most credit cards are widely accepted.
To call an Italian telephone number from outside Italy, either from a landline or a mobile phone, you will need to add the international dialing code for Italy, which is 0039 (+39), followed by the telephone number you require.
Most shops are open from 10:00 to 20:00. Some close for lunch between 13:00 and 16:00. Department stores are open between 09:00 to 20:00 seven days a week.
Pharmacies have the same opening hours as shops, from 9:30 a.m. to 12:30 and from 3:30 p.m. to 7:30 p.m.; in the larger cities, some pharmacies are open 24 hours. For emergencies during the night, or when the pharmacies are normally closed, a number of them remain open, on a rotational basis. A calendar listing the nearest one open can be found on the doors of all local pharmacies.
The supply of drinking water is guaranteed throughout Italy. The water from taps and fountains is checked regularly, and is perfectly safe to drink, unless there is a notice indicating otherwise.