Contact Information
El Greco Resort
Address: Fira, Santorini, 84 700, Greece
Tel: +30 22860 24946 - 7 Fax: +30 22860 24945 Email: info@elgreco.com.gr
General Information
The EL GRECO resort hotel in Santorini is a fully renovated hotel situated only a few minutes from the centre of the magnificent capital of the island, Fira. Fira is a vibrant place full of life and excitement. It is a combination of simplicity and beauty, making your stay in a resort hotel a truly unforgettable experience. EL GRECO resort hotel is not only one of the most prestigious Santorini resort hotels in Fira and whole island of Santorini.
EL GRECO resort hotel accommodates all types of visitors. It offers swimming pools, sauna and a jacuzzi. EL GRECO resort hotel provides breakfast every morning, and has a bar where guests can relax by having a drink. Guests can enjoy the friendly environment of The Greco café and the delicious meals of the elegant La Pergola restaurant. It is an ideal place to host professional meetings and academic events.
EL GRECO resort is situated amongst the area's well-known attractions which are all within walking distance, Kissingfish Santorini and the Archaeological Museum of Thera. To book tours and sightseeing trips of Fira, one may contact the helpful staff at the tour desk of the resort hotel.
The EL GRECO resort staff will be by your side during your stay, ready to take care of you and everything that you might need in order to make your stay an unforgettable experience that you will want to share with everyone.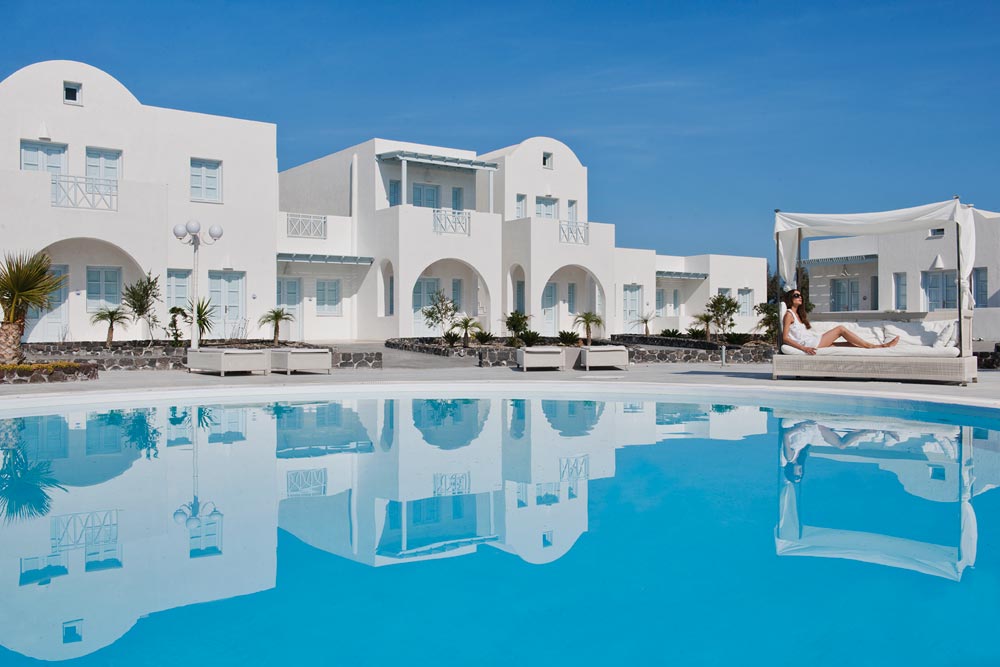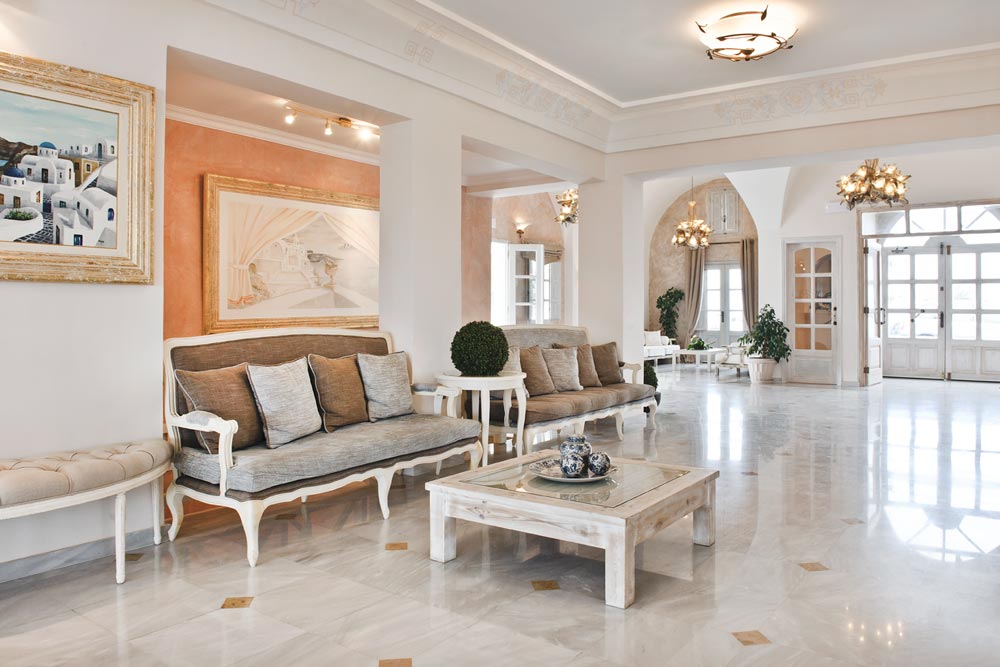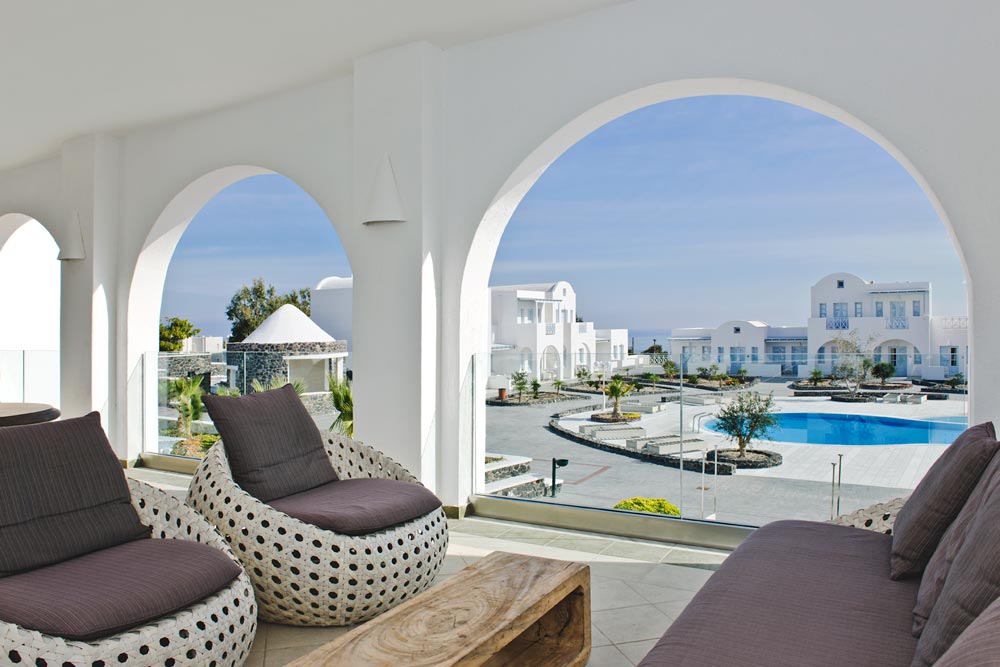 Food and Beverage
La Pergola Restaurant
The main restaurant of the EL GRECO resort hotel is located on the beautiful veranda, just next to the pool. They serve breakfast and dishes inspired from Santorinian, Greek and International cuisine
The Greco Cafe
The Greco café is a friendly coffee house in the EL GRECO resort hotel that serves traditional Greek Coffee and coffee specialties from around the world. You can try ouzo or local wine, from Santorini's excellent wineries. The El Greco's resort hotel café is a beautiful place to enjoy your stay by yourself or with your friends and family
Aiolos Pool Snack Bar
The Aiolos Pool Snack Bar, next to the swimming pool, waits for you all day and night to satisfy your appetite with snacks and drinks
Meeting Facilities
Due to its position, within only a few minutes from the heart of Fira, and the possession of the great facilities and equipment, the resort hotel can host unique events. The Volcano Hall can accommodate up to 180 people, comprised of higher aesthetics and all the modern facilities and Technical Equipment required to host a conference, meeting, exhibition, seminar and wedding reception.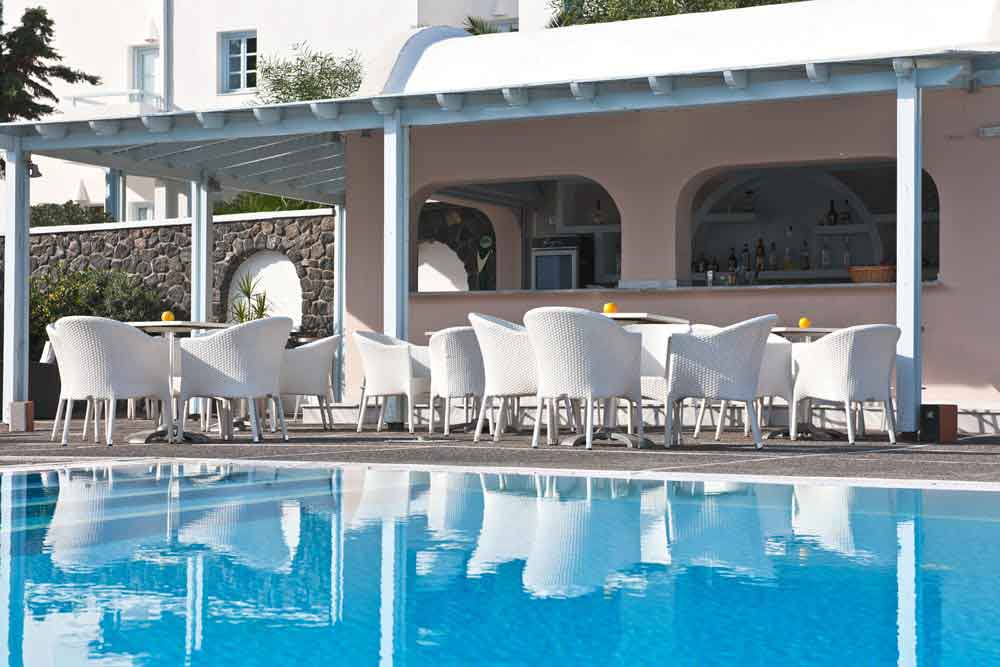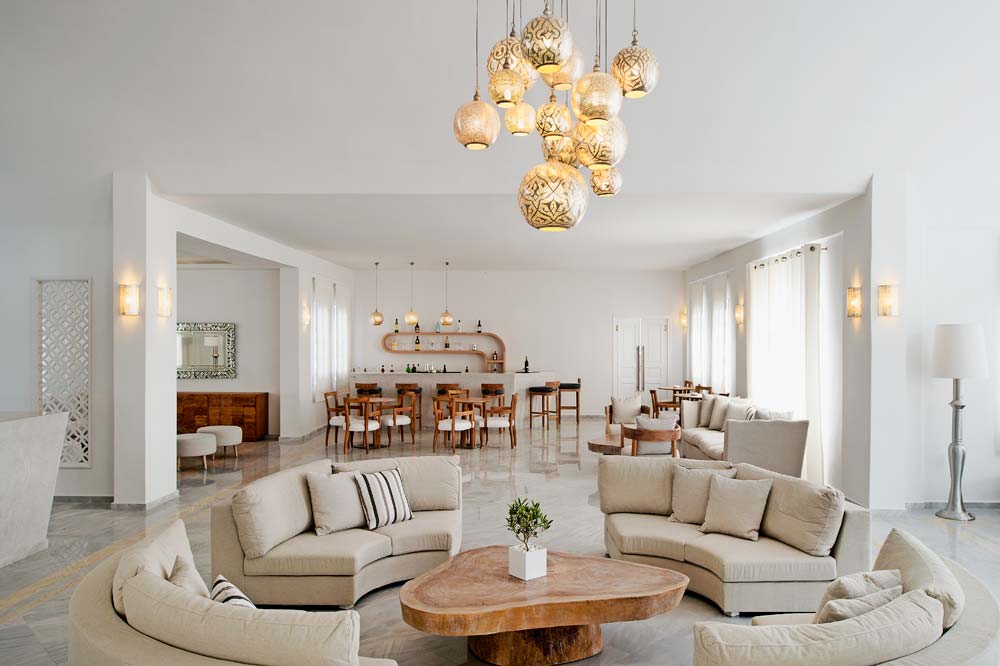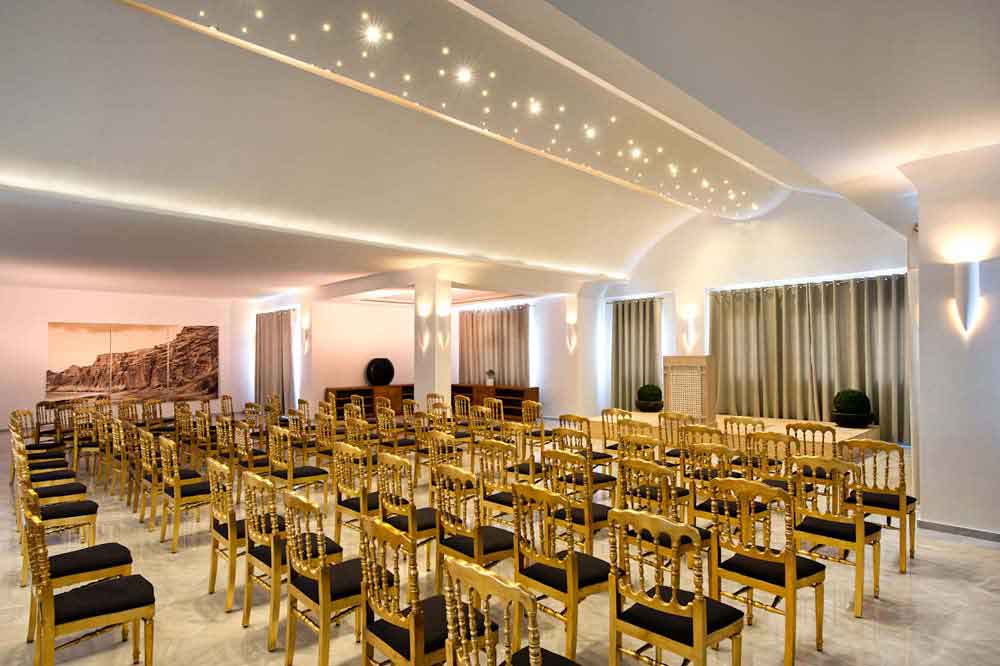 Accommodation
You can choose between a standard room, studio/superior room, or a suite that will be your place to relax and enjoy your stay. You can feel the sensation of comfort and luxury accommodation. All Rooms are air conditioned and wireless internet connection is provided free of charge. There are also multiple rooms geared towards families. The EL GRECO resort hotel has 150 rooms decorated with minimal lines of Santorinian architecture with charming details everywhere. Each room reflects the traditional Cycladic style and features a mini fridge, satellite TV and balcony or terrace. Rooms, studios and suites, have been recently renovation to feature all modern equipment and are designed to make you feel at home. Available room options are Sea view, Pool View or Garden View.
Entertainment / Sports & Leisure
The 24-hour reception can arrange excursions and boat trips, car rentals and currency exchange services. Santorini's beautiful sandy beaches are within easy reach from the hotel. A big outdoor swimming pool is located at the center of the EL GRECO Palace & Spa next to the EL GRECO resort with sun beds and umbrellas, where you can spend endless hours under the bright sun. You can also visit the four open air pools with fresh water, one children's pool and two open air jacuzzis located at the EL GRECO resort that will totally satisfy your appetite for swimming. The fully equipped Fitness Center of the EL GRECO resort has everything you need that keeps your body "fit". This facility boasts a Sauna and the necessary equipment for "summer" exercising. Also you can enjoy services at the Lotus Spa such as massages, beauty treatments for face and body. You can relax at the comfy loungers next to the indoor heated swimming pool of the Lotus Spa or at the "zen- feeling" atrium with an energizing juice from the spa's bar.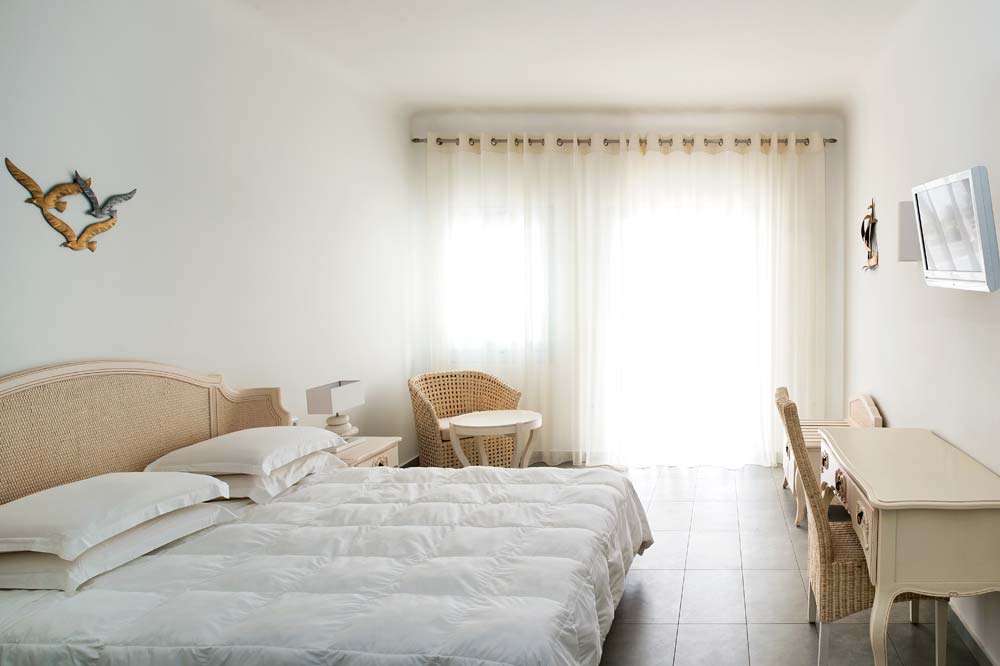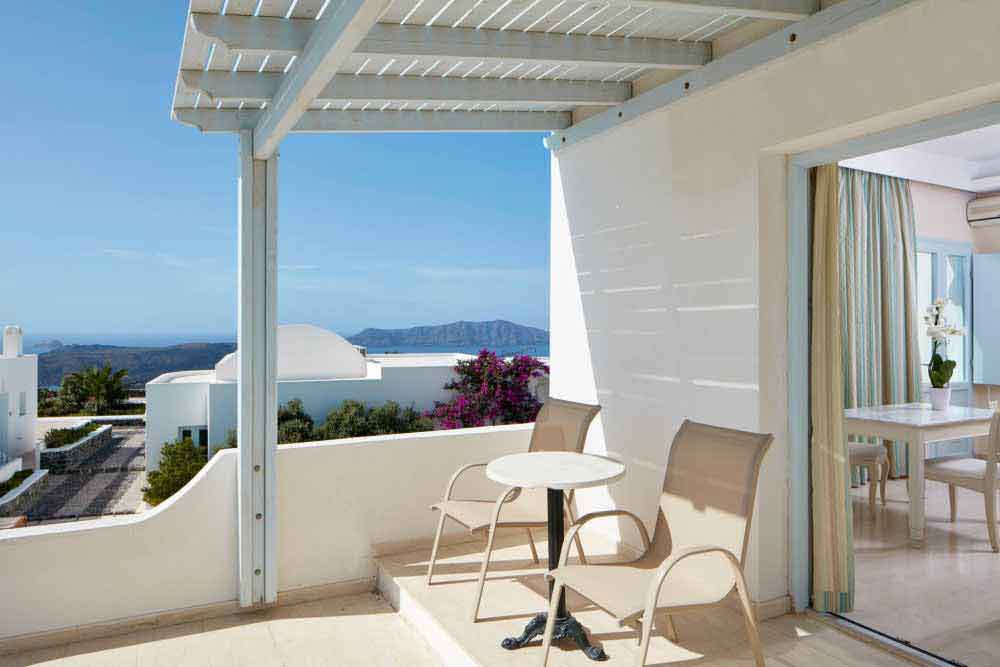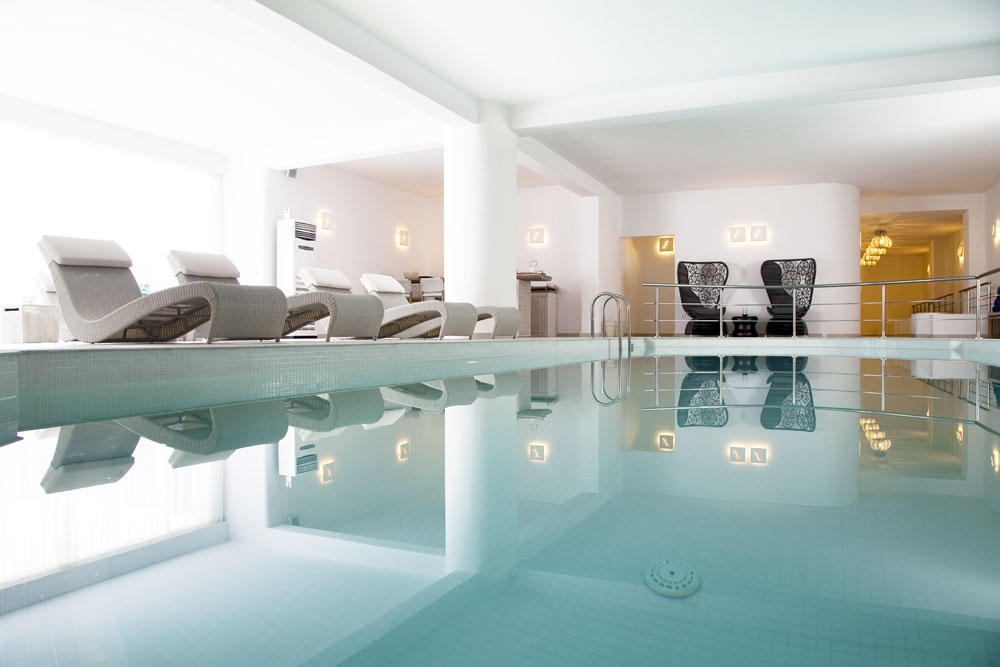 ---
Distances
Centre Of Fira Town: 450 m
Monolithos Beach: 7 Km
Santorini Airport: 5.3 Km
Fira Bus Station: 2.0 Km
Beach Of Kamari: 12 Km
Perissa - The Largest Beach Of The Island: 14 Km
Map